Royal Weddings in Jaipur
Day1:
Arrival:
Arrival at the palace on camel carts accompanied by a local band and torch bearers. A royal welcome on arrival with traditional aarti, tilak , garlands, and showering of rose petals.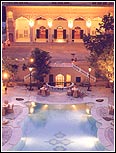 Evening:
Options:
Dinner at the poolside and a dance floor in the palace courtyard .Traditional Rajasthani folk singers set the festive mood.
Bar-be-que dinner amidst sand dunes. Venue transformed into a royal camp with candles, gaslights and lanterns. Demonstration of flaming tent-pegging by horsemen. Bonfires and marquees complete the festivities.
Day2:
Lunch
In a typical village setup with juttiwalas, potters, churiwalas, mehendiwalas adding to the ambience.
Evening
Traditional turbans will be distributed to the guests who will lead the procession with torch bearers, horses, caparisoned elephants and camel carts.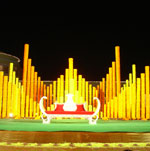 The guests will be welcomed with a showering of flower petals, aarti and garlands.
A stage is set for the bride and groom on the terrace. Formal sit down dinner in traditional Rajasthani style will be served. The wedding ceremony would be followed by a spectacular display of fireworks.