Royal Weddings in Udaipur
Royal Weddings in Udaipur
Udaipur, the 'City of Lakes', is known for its exquisitely original palaces and historic venues of The City Palace complex. We are today offering heritage palace-hotels and historical venues for a memorable once-in-a-lifetime 'Royal Wedding'. In India a dreamy wedding where a traditional welcome and red carpet will be laid out for you, your family and your wedding guests who'll be treated and royal guests. Palace weddings, grand weddings, royal weddings..... all made possible on Shaadionline.
Jagmandir Island Palace
Jagmandir Island Palace: for an island wedding Jagmandir was built by Maharana Karan Singh in 1622 as a pleasure palace for royal parties. Today this magnificent setting with its domes, marble pillars and fountains is available for banquets, weddings etc.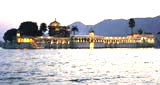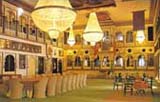 Durbar Hall
A glorious venue This stately hall has hosted court occassions, formal Durbars and banquets over the past decades. It was recently renovated with respledent chandeliers and portraits of Maharanas of the Mewar dynasty.
Zenana Mahal
Zenana Mahal: for candle-lit banquet The former palace of the royal ladies is now gloriously transformed to host candle-lit banquets and 'sangeet' ceremonies during a Royal Wedding in Udaipur. You and your wedding guests could be revelling in the historic luxury of Zenana Mahal and enjoying the sumptuous banquets laid out by our chefs.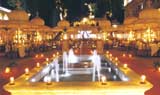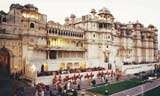 Manek Chowk
Manek Chowk: A Grand Affair The Manek Chowk has been traditional venue for royal festivities since the early 1600s. Till date, the royal occasions, religious festivals and award functions are held here